Curled Octopus Sweatshirt
The exquisite original curled octopus, curly our best seller, you love her, we love her, and now she's on a sweatshirt!
The Octopus Sweatshirt will be hand screen printed to order here in Ceredigion, please allow 6 working days. Delivery is free in the UK.
The print to order system is to avoid waste, we'll only be printing the T-shirts and sweatshirts ordered.
Your order will be shipped in plastic free packaging.
The Sweatshirt
The Curled Octopus Sweatshirt is made from 100% beautifully soft organic cotton, no polyester microfibres. The Sweatshirt is brushed 3ply and very cosy. It's in a slate green colour, with the octopus hand screen printed in black, planet friendly, water based inks.

The Artwork
A love of octopus made curly our logo. The image was drawn from a live specimen washed up on the beach at New Quay in 2017.  The artwork was hand drawn by Ian using pen and ink. You can read more about how the curled octopus image was created here >>>
Sizes
Sweatshirts are a standard unisex fit, if you like a baggy sweatshirt we'd recommend going for a size up
Ian is 6ft and wearing the XL.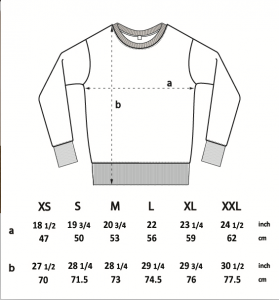 They are machine washable at 30°c
Shipping
Please allow 6 working days for your sweatshirt to be hand printed here in Wales.
Shipping is FREE in the UK
Any problems with your sweatshirt, return it to us in original condition within 14 days for an exchange or full refund.