Myxas moments…
We've had some incredibly rewarding times surveying the glutinous snail at its only known site in the UK.
Anyone reading this might wonder how that could possibly be! How can you have a great day looking for snails? Well… this particular snail is considered to be Europe's rarest freshwater mollusc.
We are working under licence from Natural Resources Wales, to investigate the life cycle of the glutinous snail. To do this we've placed a series of artificial refuges at key positions in the lake to observe the snail's behaviour. This project was initially funded by Natural Resources Wales and Freshwater Habitats Trust. We are now funding the continued research with sales of our T-shirts and notebooks.
Success
We inspected the refuges every month when conditions allowed and one day in 2017, we found baby snails – I call them snailets – for the first time! Glutinous snails – Myxas to those who know them because it is quicker to say and sounds nicer – are found under stones. Turning the stones disrupts their habitat and risks crushing the snail when the stone goes back. So, we had to devise a way of finding them and investigating their habitat without causing them any harm. To do this, we use easily identifiable objects, made hollow beneath, so the snails are not crushed.
Being the one named on the licence, I lift the refuge and blurt out what I've found to George and Ben who float around me in kayaks recording what we find. We also record water depth, temperature and take water samples. We've found adult snails, eggs and now snailets on the refuges. We're able to compare what we find in the lake with a captive population in ponds and tanks. You can read more about the project on the freshwater habitats website
Research at our Home Laboratory
We established a captive population in 2014, with just 10 snails. Because the snails are restricted to a single site in the UK, one single pollution episode or other catastrophe could wipe out the entire population. Having a captive population also enabled us to study them in depth (or in the shallows as it turned out!)
Once we'd had success in tanks, we moved them into outdoor containers to see how they coped in larger water bodies with changing environmental conditions. We quickly discovered that what they really like is warmth, they're thermophyllic. We know the snails are happy here as the population in our tanks is currently at around 500. They're also twice the size of the ones in the lake, which is interesting. We have seen more snails here than have ever been counted in the wild.
The story continues and I'll keep you updated.
Funding Conservation
This project was fully funded by grant aid as a kick start. Conservation work has its up and downs and funding is not consistent. One of the reasons we started Lifeforms Art was to be able to continue with projects when the funding collapses, as it all too frequently does. We are not a charity but this creative branch of our work helps us survive and keeps projects going that might otherwise grind to a halt. We hope this also means that grants can go to other deserving projects, where we can carry the cost of work ourselves.
Your purchases from us do actually fund conservation – thank you.
Fame for a snail
Last month I was contacted by BBC wildlife magazine, who were looking for a photograph of the glutinous snail to feature in their article about the state of nature report.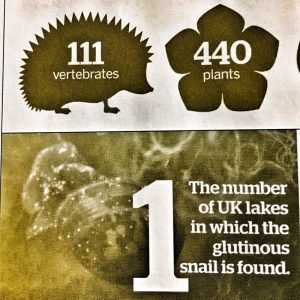 They used the picture to show the risks of a creature being restricted to just one site. Here's hoping we can keep the snail going for future generations.