Hermit Crabs
Here at Lifeforms Art we have a passion for hermit crabs and their amazing nomadic life. We were delighted to be contacted by Zoology Graduate Melanie Baker who has been studying the habitat of hermit crabs around Skomer Island. She has very kindly written a blog for us about her research.
The Land of the Hermit Crab: Exploring Skomer's Sea Floor
By Melanie Baker
Skomer Marine Conservation Zone
Close to the end of the Pembrokeshire peninsula, in SW Wales, lies the Skomer Marine Conservation Zone (MCZ). Known for its wildlife, this small region of the UK is famous for puffin and manx shearwater colonies. Throughout the year, seals and harbour porpoise can be seen thriving in the surrounding waters.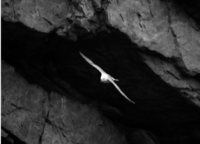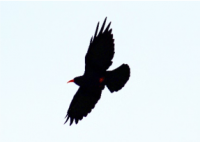 The wildlife of Skomer L-R grey seal pup, northern fulmar, and chough.
However, just offshore, in the Skomer MCZ, lies a simplistic environment made of sand, mud and shells also known as soft sediments. From scallops to sharks, and hermit crabs to flatfish, many British species find their home here. These species co-exist by creating much of the sea floor landscape themselves. Crabs have an amazing ability to disturb the sea floor, with a hermit crab weighing as little as 2.8g being able to shift through sand at 0.8ml per minute. Scallops leave behind their shells, creating habitats and refuges for many other animals.
When these regions are disturbed by humans, normally through dredging, these animals are often lost and biodiversity decreases. Due to increased human activity, it is becoming more and more critical to understand what animals inhabit these areas and how changes in the sea floor affect their dynamics.
What were we hoping to find?
Working in collaboration with the University of Leeds and the research team down in Skomer from Natural Resources Wales, this project aimed to assess for the first time, the abundance and biodiversity of the organisms inhabiting the sea floor. Without knowing what to expect, we had to gamble and hope that something could be found. Viewing the sea floor comes with its difficulties, although, modern underwater cameras provide an easy solution.
What did the footage reveal?
To our amazement, this environment was thriving with life. Although counting all observable animals over 25 hours worth of film sounds dull, the footage held some surprising moments. Large spider crabs raced across the sand and sharks occasionally wondered into view, scouring the sea floor for prey. Whilst plaice float elegantly across the sand and many schools of juvenile fish search algae.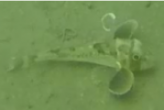 L-R lesser spotted dogfish, spiny spider crab and tub gurnard
Most creatures were from the taxonomic class that includes crabs, the Malacostraca. Of this class 86% were hermit crabs. Darting in and out of the time lapses, these scavenging predators rule the sea floor. Hermit crabs interact with the sediment for feeding and although small, they significantly affect and often excluding other organisms in their habitat. These animals dominated in less diverse sediments, providing further evidence that if sediments are disturbed, biodiversity is likely to decrease.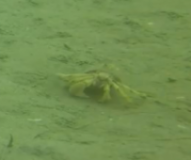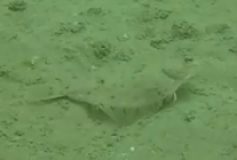 Hermit Crab and Plaice
The footage also revealed some positive information. The lesser spotted dogfish and smooth hound are clear indicators of healthy ecosystems, with apex predators often being the first organisms to disappear. Rare species, like king scallops and plaice, were relatively common and the soft sediments also provided breeding ground to many fish species including the Atlantic cod, which is classified as vulnerable on the IUCN Red List. Hermit crabs and netted dogwhelk frequently interact with the sediment, making them a good indicator of pollution.  The presence of these organisms, therefore, suggests these sediments are relatively healthy.
What next?
Although the creatures of Skomer's soft sediment environment are fascinating and appear diverse and abundant in nature, this is a relatively preliminary study. It is vital that further research is carried out to confirm these results on a larger scale. Soft sediments are often overlooked in conservation and it is important to protect areas affected by human disturbance to make sure soft sediment organisms are not lost.
About the Author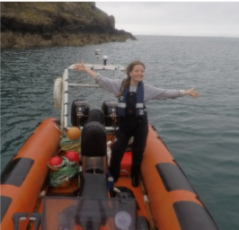 Having grown up in Australia and the UK, Melanie found a deep fascination with nature from an early age. This love of animals followed her throughout her education, having just recently completed a degree in Zoology from the University of Leeds. Her recent field work in Skomer formed the focus of her final year project which explored the biodiversity and abundance of soft sediment organisms in this region. Having nearly graduated from university, Melanie hopes to follow her passion with a job in conservation.
All photographs ©Melanie Baker 2019
New Print
To celebrate this fab blog post Melanie has written for us we've released a new hermit crab print available here